~ Property Description Data ~
at a glance...


The Home: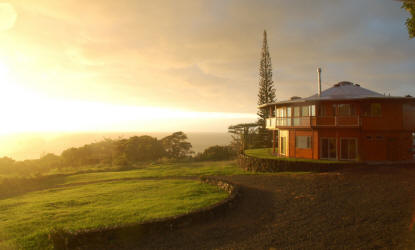 This lovely home was created with an exceptional level of design and construction,
and here is the story...
Over the past 20+ years, the previous owner of this home has personally designed several hundred,
individual, Island-Style Cedar homes, for clients here in Hawaii.

This exclusive Maka'alae, Hana home was planned as the previous owners' own personal
long-term future residence, so it was carefully designed and constructed,
every detail selected with the intentions of the dreams of a lifetime.

Materials were all chosen, and construction methods were enhanced, for lifetime
beauty and longevity, with goals of simplicity of maintenance and care,
through all kinds of possible tropical weather conditions.
Drawing on the best of 20+ years' Hawaii design experience,
this home was carefully and thoughtfully designed
and finished, in every detail.

~ Finished for Occupancy in 2007, "finishing touches" just completed in 2008 ~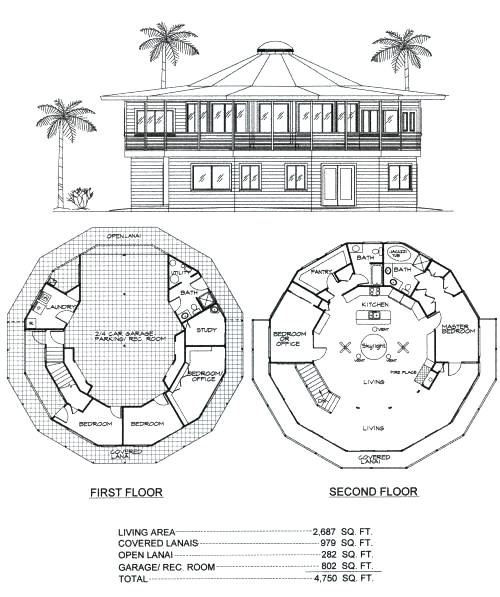 Home Size Specs:
Living Area ................. ....... 2,687 sq. ft.
Rec. Room & Garage....... 802
Upstairs Lanai ...................... 979
Tiled Lanai ............................ 282
Total Under Roof ................4,750 sq. ft.
Rooms:
5 Bedrooms
3 Full Baths
Recreation / Great Room
Massage Room
Pantry / Kitchen Gourmet Room
Laundry Room
Many Storage Closets and Cabinets
Convertible 2-Story Closet Area
for Elevator or Dumb-Waiter Lift

Construction and Materials
In the design and construction of this home, everything was carefully chosen
and hand-crafted with three things in mind:
Lifetime Quality and Durability

Healthy and Energy-Efficient Living
The home is made from superior, natural materials, termite-resistant, toxic-free,
known to hold up in even extreme weather conditions,
and constructed for lifetime stability, beauty and enjoyment.
Materials:

Port Orford Cedar is of the very highest grade, used by boat-builders for making high-quality sea-worthy vessels.
All-Heart Redwood used in this home is 2nd growth and sustainably grown.
All the woods in this home are naturally highly termite-resistant, and do not require tenting or chemical treatment.
Exterior Walls - T&G Port Orford Cedar Siding, Framing All-Heart Redwood
Interior Walls - T&G Port Orford Cedar Paneling, Framing All-Heart Redwood
Ceilings - T&G Port Orford Cedar Sheathing, Beams & Rafters All-Heart Redwood
Flooring - Brazillian Cherry Hardwood, Satina Rosa Hardwood, imported ceramic tile
Roofing - High-grade (316) Stainless Steel, for clean water catchment, super-longevity - lifetime
Countertops - by Corian™
Sinks - Molded-in ivory sinks in the kitchen and bathrooms, by Corian™
Doors - Solid Mahogany entry doors, room doors, louvered closet and cabinet doors
Windows / Sliding Glass Doors - Almond vinyl sliders with Architectural UV Protection Coating
Kitchen / Bath Cabinets - Hand-crafted of solid African Mahogany
Storage Closets - Solid Mahogany Louver Doors
Stairs - Ipe Hardwood, inlaid woodworking
Lanai Decking - Ipe Hardwood, All Heart Redwood Railings


For added information about the exceptional structural integrity of this home's construction, click here.


Road Access: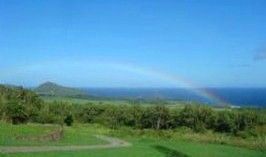 The Private Driveway / Road access is excellent, smooth and well graveled. 2-wheel drive, easy access, turning off from the Hana Highway.

Several years ago, $90,000 was invested into the resurfacing and gravel of the road up to this property, and it is among the very best of driveway/roads in the area.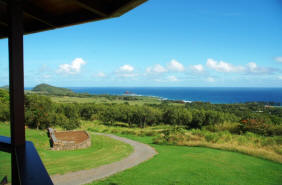 Barn / Workshop:
2,520 sq. ft. Barn/Workshop (

30' wide x 84' long)

Additional vertical storage/use: 10' high walls, 17' high at peak
New Roof installed in 2008 - Lifetime Aluminum Standing Seam Roof
Shop Bathroom
Overhead lighting, power outlets, shelves for workshop


Energy Systems / Features:
Enclosed, insulated, Aluminum Power Generation Shed -- includes:



Landscape / Gardening:
Large, Hawaiian-built Rock-wall Enclosed Garden, level and filled with deep, fertile Hana soil.
Many beautiful Hawaiian-built stone retaining walls, to create boundaries, stairs and/or level areas on the land.
Fruit Trees on the land include:

Papaya

Guava

Mango

Avocado

Apple-Banana

Noni

Mountain Apple

Back-up Systems:
Virtually all aspects of care-free living have been carefully planned -- with excellent systems,
and the addition of back-up systems, in event of any unforeseen occurrence...
Private & Public Water :
Main System includes two food-grade water tanks with various sources of water catchment routed in.
Switchable to Back-up System with an extra water tank located near barn/workshop.
Property also includes its own water meter, for County water at lower end of road/driveway.
Water Heating:
80 Gallon Solar Hot Water system
Switchable to Back-up Propane On-demand Paloma, for unlimited water heating
Separate Solar hot water system, inside power generation shed.
Electricity:
State-of-the-art Integrated Solar Electricity System
Additionally supplied on windy days, and during breezy nights, by Wind-Powered generator
Back-up electrical power from Whisper Watt™ 15kw Diesel generator
All Underground / conduit wiring - No overhead wires on the property.
Food Storage:
Two electric refrigerators in Kitchen: One main, one extra for guests / entertaining
Propane-powered refrigerator downstairs: backup / extra refreshments for guests





Detailed Floor Plan Sketches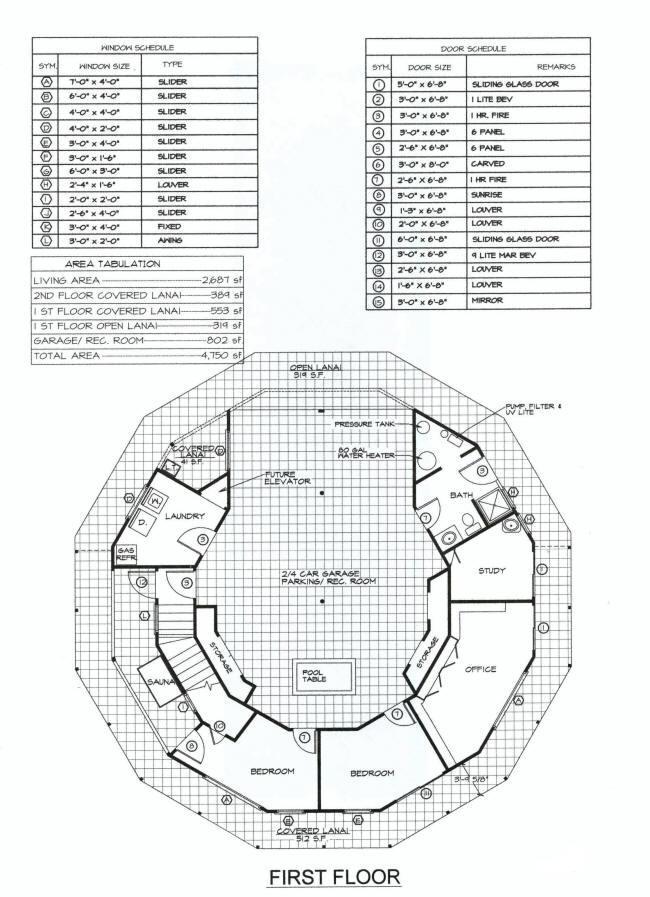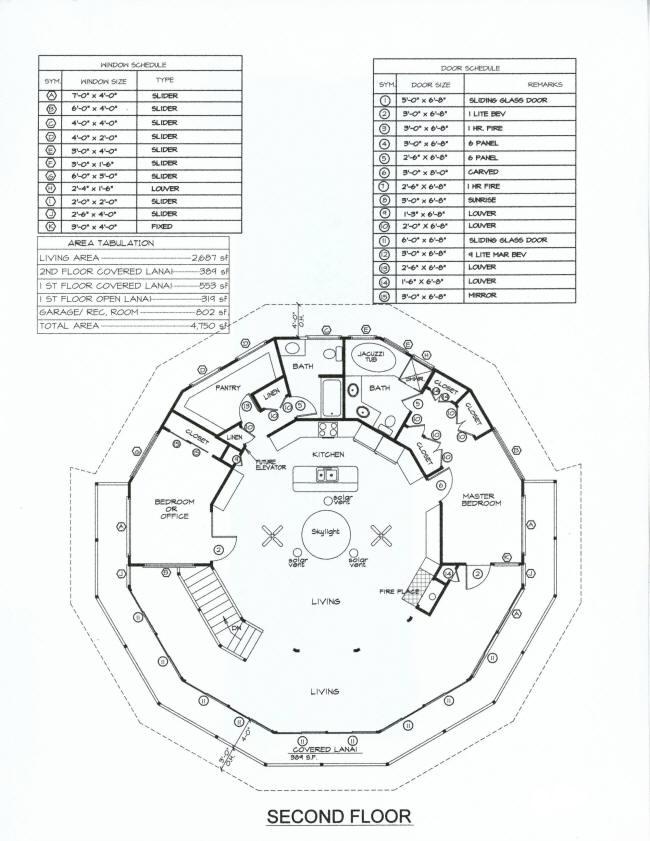 Precision craftsmanship, furniture-grade, interior finish woodworking -
Smooth, elegant joinery -- Lovely finish-work done with care by a guitar-maker...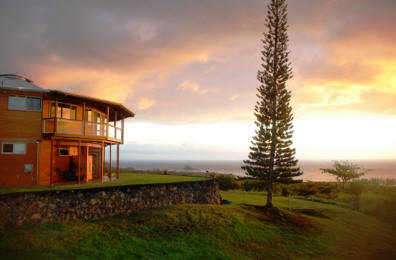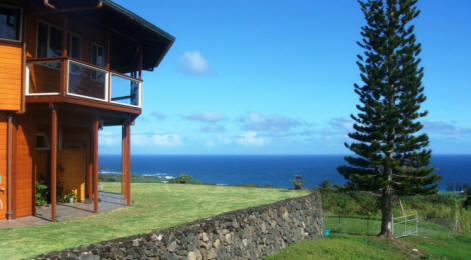 Click here for more photos and information: